Last Updated: 04/05/13 17:52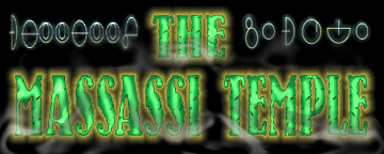 Screen of the Day (Archives)
EC Updates
Map of the Week

Jedi Knight Enhanced
Levels of the week are chosen based on votes. Find your favorite level and click the LotW Vote link!
Archives
Got news? Drop us a line at news@massassi.net, or use the News Submission Form.
Tuesday, December 25, 2012
Merry Christmas, Tracer. - Echoman 4:02 pm

This Christmas post is dedicated to community member Tracer. Your warm smile and baby-soft skin has brought so much joy to the Massassian forums over the past decade. We, the Administration, would like to take this festive time of year to toast our holiday-themed glasses in your name. Without you, Massassi would just be Massassi Without Tracer. On this note, we should all remember the importance of friends, family and the names of our enemies. Thank you and have a happy holiday season and a wonderful New Year.

With Loving Memories,
Tracer
1973-2015
Thursday, November 8, 2012
New Jedi Knight Single Player Level: DarkSeeker: Enter the Darkness - Cool Matty 1:18 pm

File: DarkSeeker: Enter the Darkness
Author: Zero Raven, Edward
Description: A personal Shadow rests in the depths of each person, waiting to spring. The shadow represents a persons darker dimension, the inner demon. Can you survive the darkness? Make sure to read the installation instructions and the readme file. The level will not work without it.


2012 Massassi Child's Play Charity Fund - DSettahr 1:29 pm

Cool Matty has officially begun the Child's Play Charity Fund for the 2012 Holiday Season! Child's Play is an annual charity started by Penny-Arcade that seeks provide toys and games to children who are forced to spend the holiday season away from home in hospitals throughout the US (and the World).

To find out how you can donate to Child's Play through the Massassi Fund, check out this thread on the Massassi Forums. To learn more about Child's Play, you can visit the Child's Play Website.
Massassi Level Pack 6 Contest Results - Cool Matty 11:36 pm

The 6th Massassi Level Pack, featuring nothing but Jedi Knight single player levels, is here to commemorate Jedi Knight: Dark Forces 2's 15th anniversary (October 9th, 1997). It's been a long period of time, and although interest in the series has waned, it still had a little more to give.

So, with money on the line, 6 editors wielded their cleaving tools, and brought us some of the finest gaming Jedi Knight has ever graced us with.

You'll find the results of the contest at the Massassi Level Pack 6 results page, as well as a small foreword thanking everyone for participating. Now click in, and start gaming!
New Jedi Knight Single Player Level: The Fall of JuzSoft 2 - Cool Matty 11:26 pm

File: The Fall of JuzSoft 2
Author: Grismath
Description: Years have passed since our hero defeated Juztyn. Now, Lord Burrie is attempting to resurrect Juztyn! This episode takes place after The Fall of JuzSoft, Life of a Merchant, and Life of a Merchant 2 (all also available on Massassi). This mod uses 16-bit MATs and requires the Jedi Knight Unofficial Patch. However, it's recommended that you play without the Jedi Knight Enhanced modification.


New Jedi Knight Single Player Level: Spaceport - Cool Matty 8:38 pm
New Jedi Knight Single Player Level: The Bounty - Cool Matty 8:31 pm

File: The Bounty
Author: Ogel45, Darth Dan
Description: Dajeek the Hutt has betrayed the Hutt Cartell and has allied the Imperial Remnant to take over the moon of Nar Shaddaa. You play a bounty hunter hired by the Hutt Cartell to stop the Imperials and kill Dajeek. This is the first two levels of the series and include 16-bit mats and REQUIRES the Unofficial Patch. Level Authors Ogel45 & Darth Dan.


New Jedi Knight Single Player Level: ASSUALT THE PLANETARY HYDRO CANNON - Cool Matty 8:27 pm

File: ASSUALT THE PLANETARY HYDRO CANNON
Author: JM
Description: Round and brown. "About 1/8th of the winning entry, $%&!." Uses 16-bit mats, probably requires the adjoin and thing limit removal patch.


New Jedi Knight Single Player Level: The Lost Mercenary - Cool Matty 8:13 pm

File: The Lost Mercenary
Author: Elmo
Description: It is only a few months after the destruction of the second Death Star. With the Emperor defeated, the Rebel Alliance has begun the difficult process of building a New Republic. Meanwhile, a powerful new evil has risen. A group of Dark Jedi is assembling an army from the remnants of the fallen Galactic Empire. Having been captured by Imperial Agents, during the Battle of Endor, mercenary Kyle Katarn is unaware of a sinister scheme that will throw him once more into a struggle for the fate of the galaxy...
16-bit mats used, no limit removal patch required. JK Enhanced recommended.


New Jedi Knight Single Player Level: ATST Factory - Cool Matty 8:08 pm

File: ATST Factory
Author: Darth_Alran
Description: A rebel agent has been deployed into an imperial ATST factory with orders to take it offline through sabotage. Uses 16-bit mats, does not require limit removal patches.


In celebration of Jedi Knight's 15 year anniversary.... - Echoman 6:36 pm

Massassi is launching Massassi Level Pack Contest 6, and there is prize money involved in this affair! Officially released to the world in 1997, Jedi Knight would now be a teenager, with a rebellious phase erupting with attention-grabbing angst and all. Now, if you were 15 at the time of the launch, you are now nearing the threshold of your thirties and inching closer to mid-life crisis mode. But you don't have to clip coupons yet! The thirties are the new twenties (lies), and Jedi Knight is still able for this last bout of editing. Contest rules and information are here. Good luck to all involved.
---
© Copyright 1998-2002 The Massassi Temple
Nothing on this site is made, distributed, or supported by LEC. Use and download all information/files at your own risk. We do our best to keep our content free of objectionable material, but we cannot guarantee that sites we link to take the same stance, be aware of what you and/or your children are visiting on the internet.